In Memory
Andrew "Andy" Hall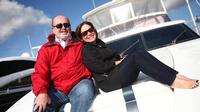 Obituary
Miami Herald
September 17, 2019
Andrew Hall and his wife, Gail Sloane Meyers, on their boat in the Hamptons.
In April 2016, Miami attorney Andrew Hall joined his co-chairs on the board of the Holocaust Memorial Miami Beach to design and bring to life a phone app that documented the stories of the last surviving Holocaust victims living in South Florida.
Creating the app, which has been translated into seven languages and gives the memorial's visitors access to first-person testimonies, fulfilled both an educational as well as a deeply personal purpose for Hall, who was a baby when his family fled Nazi-occupied Poland.
"We are dying," Hall's older brother Allan Hall said when the tool was first rolled out. "The app will speak for us long after we are gone."
After suffering symptoms from colitis for several months, Hall passed away in his home Monday on his 75th birthday.